Actress Kim Chung, an impresario of cai luong folk theater, passed away on April 8 in Ho Chi Minh City at the age of 85 after a long illness.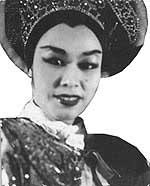 Actress Kim Chung
The Kim Chung cai luong troupe was famous in the 1950s and 1970s.  Cai luong, or "renovated opera," is a genre of Vietnamese folk theater.
Born in 1932 in Ha Noi, the actress was introduced to cai luong when she joined a children's music troupe called Nhat Tan at the age of 10. Later, she acted for the To Nu troupe and caught the attention of audiences by accepting leading roles after acting for only six years .
She established the Kim Chung Company with seven other players in Ho Chi Minh City in 1945. The company performed in cities all over South Viet Nam and was home to such players such as Minh Vuong, Le Thuy, Dieu Hien, Thanh Nguyet, Tan Tai, and Phuong Lien.