Three artists from HCM City and Can Tho Province have won top prizes at the 2015 Chuong Vang (Golden Bell) Awards, an annual cai luong (reformed opera) competition launched by HCM City Television.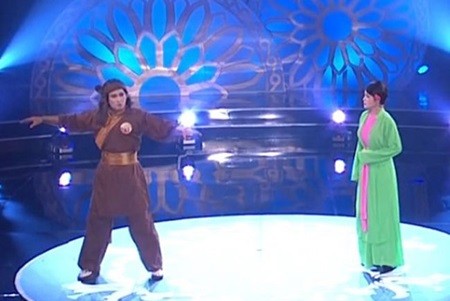 Personal style: The Chuong Vang (Golden Bell) winner Nguyen Thanh Toan (left) on stage. — Photo thethaovanhoa.com.
HCM City's promising talents Nguyen Thanh Toan and Nguyen Van Hop, who work for the city's Tran Huu Trang Theatre, one of the region's leading cai luong troupes, captured the hearts of judges and audiences during the two-month contest.
Toan won the first prize after showing his singing and dancing skills in an excerpt from an historical play, Dau An Giao Thoi (The Hallmark of Era), in the final round which aired live on HTV9 and HTV4 channels.
Hop won second prize for his role in a play which features the life of General Tran Binh Trong under Tran dynasty. The third prize went to female artist To Kim Phuong of Can Tho.
The three were chosen from a field of 12 finalists.
"I always work very hard, improving both skills and creativity to advance the power of cai luong. My colleagues and I are trying to use our ability to revive the theatre," Toan said at the contest's performing gala this month.
The 25-year-old began his career when he was 19 and has worked hard to meet the challenge of luring audiences back to cai luong.
He studied at the HCM City University of Science's Information Technology Faculty before participating in a three-year training course in cai luong launched by the Tran Huu Trang Theatre in 2013.
Toan studied cai luong with veteran artists Le Tu and Huynh Mai, who have shared their love and experience for the art with the younger generation.
"I want to demonstrate my own personal style on stage, combining traditional and modern performance styles," he said.
Toan and Doi are the youngest and most talented actors of Tran Huu Trang Theatre. They have travelled around the region to expand cai luong among young people.
Unlike Toan, the woman Phuong has improved her skills with amateur artists at cai luong clubs in Can Tho.
"Like many of my friends, my love for cai luong began from lullabies sung by my grandmother and mother," said Phuong, one of four rural artists to join the contest's final round this year.
Phuong performed well in an excerpt from the play Ngai Vang Va Nu Tuong (The Throne and Female General), which has made many artists popular and famous.
Phuong now works for the Cao Van Lau Theatre in Bac Lieu Province.
"Through the Chuong Vang Awards, we want to encourage young artists to preserve cai luong, a traditional southern Vietnamese form of theatre which originated in the Mekong River Delta," said Nguyen Quy Hoa, general director of Ho Chi Minh City Television.
The annual Chuong Vang Awards began in 2005 and has attracted several hundred young artists from professional theatres and clubs in HCM City and Mekong Delta provinces.