The 10th Tran Huu Trang Prize, the most prestigious and famous prize in cai luong (a traditional form of opera of the south of Viet Nam), will be held for the first time in the Mekong Delta City of Can Tho.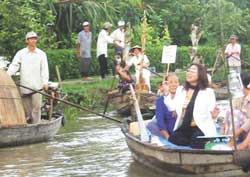 Artist Bach Tuyet (R), one of the biggest name in cai luong, performs in Hau Giang Province.
21 entrants from 9 Mekong Delta provinces will participate in the primary examination from July 5 to 6 in Ho Chi Minh and Can Tho cities. The semifinal and final rounds will take place in the mid of August and September.
The judges include the audience board, the press board led by reporter Cat Vu and the art board presided by meritorious artist Bach Tuyet aiming at discovering the best and most promising cai luong artists
The contest is jointly organized by the Ho Chi Minh City Stage Artists' Association, Viet Nam Television in Can Tho City, and Hau Giang Province Television.

Related article:
Tran Huu Trang Prize for Cai Luong Artists Resumes