The Cuu Long (Mekong) Delta city of Can Tho yesterday opened the "Spring Colour in the Countryside" festival at the Can Tho City Museum to celebrate Tet (Lunar New Year).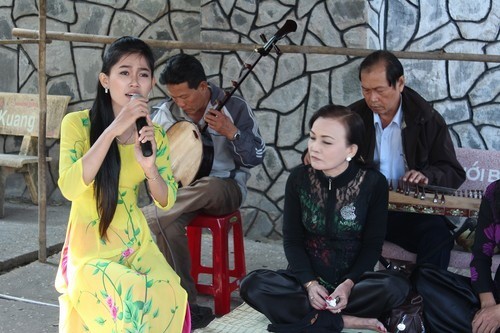 Artists singing Don Ca Tai Tu tunes at the festival "Spring Colour in the Countryside" in Can Tho City. (Photo: canthotv.vn)
The festival features the activities of traditional craft villages and the culinary culture of the Kinh people as well as the Hoa and Khmer ethnic groups.

Artisans and their traditional handicrafts such as knitting, mat weaving and carving are also part of the festivities.

Visitors can watch cooking demonstrations, including the making of traditional cakes like banh xeo (rice pancakes folded in half and filled with shrimp, meat and bean sprouts), banh tet (cylinder-shaped glutinous-rice cakes filled with green bean paste and pork), palm sugar cakes, and radish cakes.

The art of calligraphy, folk games and performances of Don Ca Tai Tu music and songs will also take place. The festival ends on January 16.