A ceremony to cast a statue of the legendary Vietnamese hero Saint Giong was held at the Soc Temple relic area, Soc Son District, Hanoi on October 26.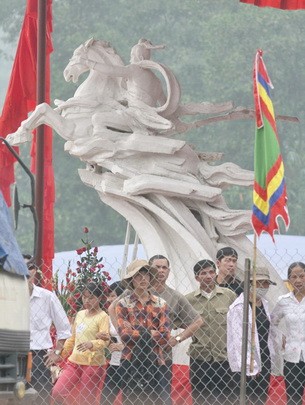 Residents in Soc Son District, Hanoi stand in front of a plaster Saint Giong statue during the October 26 casting ceremony (Photo: Tuoi Tre)
The project of making the statue is one of the major attractions being crafted to cerebrate the 1,000th anniversary of Thang Long-Hanoi.
The 85-ton, 12 meter-tall statue will be situated on the highest peak of the Soc Temple relic area and Non Pagoda, and is expected to be complete by the end of 2010.
Legend has it that three-year-old Giong, born after his mother tried to fit her feet in the footprints of a giant in a field, suddenly grew into a giant himself when invaders attacked the country.
He asked the king for an iron horse and promptly chased the invaders out of the country with an iron sword and then bamboo. He and his horse then flew into the sky from Soc Mountain in Soc Son District.
The statue will depict Saint Giong and his horse flying in the sky after accomplishing their mission.