The film titled Cau Vong Khong Sac (Rainbow Without Colour), directed by Nguyen Quang Tuyen, competes in the First Films World category at the Montreal Film Festival 2015.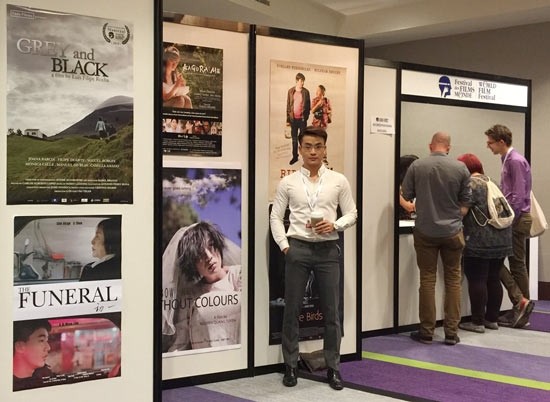 Actor Thanh Tu participates in the Montreal Film Festival 2015.
"The film tells a moving story about the romance between the biological son and an adopted one of Mrs Yen. The two men live together, and one day, they announce their love to their family. The mother cannot accept it and tries to stop her sons from following a homosexual lifestyle. But her blind motherly love drives her son to his death. The film focuses on the relationship between parents and their children in Vietnam, where parents always think they have done the best for their offspring".
After screening for the competition, the film will be presented to the public at Cinema Latin Quarter 9 on September 4-5.
The organzation board of the 39th Montreal Film Festival which runs from August 27-September 7 selected 24 among 3,500 films from 86 countries to compete for the fest's prominent Golden Zenith, the main prize of the competition.
The film is the second Vietnam film to take part in the Montreal World Film Festival. In 2006, Vietnamese film Chuyen Cua Pao (Pao's Story), participated in the event.
Launched in 1978 in Canada, the Montreal Film Festival is the only competitive Film Festival in North America recognized by the FIAPF (InternationalFederation of Film Producers Associations). The event is one of the most important and prestigous film fests in the region.