More than 100 well-known actors and artists walked the red carpet on April 5 during the fourth annual HTV Awards at the Ho Chi Minh City Television Theater.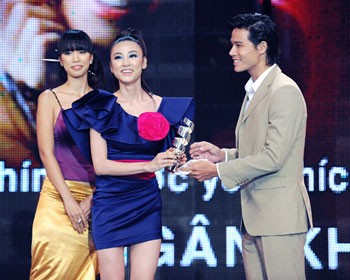 Actress Ngan Khanh (C) receives the award for Favorite Actress at the 2010 HTV Awards in HCMC on April 5
After a three-month voting process, nine awards were given out to the city's favorite singers and actors.

In the TV category, actress Ngan Khanh and actor Thanh Nam won the Favorite Actress and Actor honors.

Khanh won for her role as "Hang" in the film Song tinh (The Wave of Love) while Nam won for his role as "Hai Lua" in the film Cuoc phieu luu cua Hai Lua (Hai Lua's Adventure).

Actress Nguyet Anh and actor Tan Beo took the Favorite Supporting Actress and Actor awards, meanwhile.

Anh was recognized for her role as "Thu Cam" in the film Thu ba hoc tro (Mischievous Students) and Tan Beo was awarded for his role as "Quan" in the film Tinh an (Love Case).

In the theater category, the Best Dramatic Actress title went to veteran actress Kim Xuan. Thuy Nga won the Favorite Actor award and Thanh Ngan once again was named Favorite cai luong (southern folk opera) artist.

In the music category, Dam Vinh Hung was named Favorite Male Singer while My Tam won for Favorite Female Singer. Quang Dung, meanwhile, won the award for Most Friendly Singer.

Organized by Ho Chi Minh Television, the HTV Awards aim to honor popular artists who have made outstanding contributions to the development of Vietnamese music, theater and film based on viewers' votes.