Meritorious Artist Y Moan of the Ede ethnic minority will hold a music performance to celebrate his singing career at Au Co Cultural Center in Hanoi on August 6.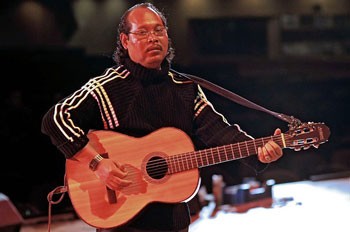 Meritorious Artist Y Moan
It will be the first and last solo performance of the leading Central Highlands singer, as he is enduring the last phase of cancer.

The "Highland flame" concert will demonstrate Y Moan's burning devotion to singing; the concert event has been highly anticipated by his friends and fans.

Born in 1957, Y Moan was one of seven children in a poor family. He left school when he was in 6th grade to support his parents.

He joined a Dak Lak Province art troupe of at the age of 18 and won a gold medal at the National Dance and Singing Festival in 1976 for the song, Ganh thoc vao kho (Carrying rice to the store).
He then became popular for songs honoring the Central Highlands.

If you want to to visit him in Buon Me Thuot City, you can ask anyone, from taxi drivers at the airport to motorbike drivers at bus stations, everyone knows the location of his house in Dha Prong Commune.

Y Moan is the pride of all Central Highlands people.

Apart from singing, Y Moan also works as a farmer on a coffee field covering on an area of more than 4 hectares, to support his family, especially two sons Y Von and Y Garia, who study singing at the Military College Of Arts & Culture.

He also collects many Central Highlands traditional musical instruments and home appliances of the Ede people, which he displays at his house. He considers his home to be a small museum where he can preserve his national culture.

"Highland singers have to sing as though the forest is fluttering in the wind, the murmur of a brook and rumble of the fall," the singer said.