Thousands of domestic and foreign visitors took part in the Countdown Festival welcoming the New Year 2014 in the ancient town of Hoi An on December 31.

Special performances of music, fashion, and public dancing made the people come together.
The welcoming New Year festival 2014 at the 29/3 (March 29) Square gave an impressive and unforgettable moments to people in the central coastal city of Da Nang on December 31.

A spectacular lighting show featuring the art of visual effects in motion pictures and music performance wrapped up the year 2013.

In addition, the "Street adornment" program and art performances on Bach Dang Street will be held on December 27, 2013 until January 4, 2014.

A bustling atmosphere welcoming New Year 2014 also pervaded the ancient capital of Hue with a numerous exciting and fascinating programs on main streets including Le Loi, Pham Ngu Lao and Chu Van An.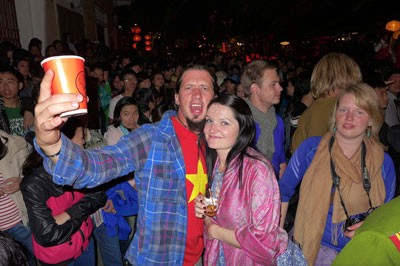 Locals and foreign visitors enjoy New Year 2014 in Hoi An.