The Cham ethnic community are celebrating their annual Kate Festival at their Po Sah Inư Temple in the central coastal city of Phan Thiet in Binh Thuan Province from September 24 to 26.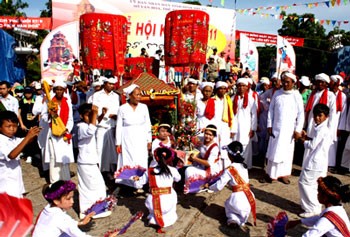 (File) Costumes of the Po Sah Inu Goddess being carried on a palanquin.
An estimated 20,000 residents and visitors will be attending the annual cultural event.
The Cham people carried a procession of their Goddess on a palanquin accompanied by traditional music from Nguyen Thong Street to the Po Sah Inư Temple on September 25.
The festival is also holding various contests such as brocade-weaving, pottery-making, cake-baking and a variety of folk games.
A procession of palanquins and costumes of the Po Sah Inu Goddess will be on display. A ceremony will be held to open the tower gates and a religious ceremony to wash the linga and yoni prayer alter will also held take place as will many traditional music shows on September 26.

The Kate Festival is the biggest traditional annual cultural event of the Cham ethnic people in Binh Thuan Province.