Kate festival, the most important event of the Cham ethnic group, was held yesterday in the south-central coastal provinces of Binh Thuan and Ninh Thuan.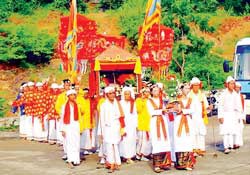 Hundreds of Cham people flock to the Poshanu tower to celebrate their Kate festival.
Hundreds of Cham people in traditional costumes gathered at the Poshanu tower, a national historic and cultural relic in Phan Thiet City, Binh Thuan Province, early yesterday morning to celebrate the event.
The festival includes many traditional activities such as singing and dancing to traditional songs, opening the towers to the public, bathing and dressing the statues, and offering and greeting the genii in a special ceremony.
Meanwhile, crowds of pilgrims also flocked to Poklong Garai tower far away from Phan Rang City, in Ninh Thuan Province, to worship their ancestors and King Poklong Garai.
The festival falls on the first day of the seventh month of the Cham's calendar (this corresponds with October) and will last for ten days.  Celebrations are held at mausoleums, temples, shrines, and in the family homes of the Cham people.  They commemorate the gods, heroes, ancestors, and such kings with much merit as Poklong, Garai, and Porome.
It is a chance for local and international visitors to enjoy a unique folk event of the Cham nation and discover the ethnic minority's cultural features.