The Culture and Information Department of Gia Lai called a press conference yesterday to announce the discovery of a Champa tower in the province's Krong Pa District.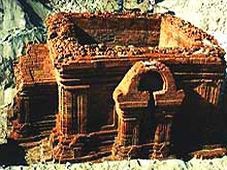 The Cham tower
This is the first Champa tower to be discovered in Krong Pa and the most undamaged one to be found in the Central Highlands, according to the archeologists who are working the dig.
Although the building itself has yet to be dated, the archeologists have found two bas-reliefs inscribed with characters probably from the 6th or 7th century AD.
The tower was constructed of hard bricks weighing 14 kilograms apiece. Its roof has long gone and some of its walls have sunk into the ground, and the wall surrounding the tower is more than half buried and overgrown with wild grass.
Presumably the bricks were baked in the ancient kiln discovered on the bank of a nearby river.
Inside the tower, right at the center, there is a one-meter-deep hole below which the archeologists believe lies a sunken altar.