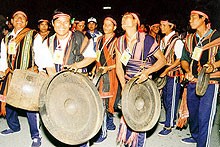 Gong Culture in the central highlands of Viet Nam was recognized as masterpiece of intangible heritage by UNESCO
The title "Masterpiece of the Oral and Intangible Heritage of Humankind", recognized by the United Nations Educational, Scientific and Cultural Organization (UNESCO), will no longer exist, according to the Ministry of Culture and Information
.
Instead, the UNESCO will put such masterpieces into the List of Representative Intangible Cultural Heritage of Mankind.
The UNESCO will also consider the applications sent by nations once a year instead of once every two years as before; the number of records will not be limited.
Besides, each country should draw out a specific and practical action plan to protect its heritage in the coming time.