A charity program, "Nghia tinh Truong Son" (Sentimental Attachment for Truong Son Road,) by Sai Gon Giai Phong newspaper was officially launched at a press conference September 11.
Addressing the press conference, SGGP Editor-in-chief Tran The Tuyen said: "The program launched by SGGP will keep running until 2012. This is to commemorate the 35th anniversary of southern liberation and national unity, and also to celebrate the upcoming eleventh Vietnam Communist Party Congress in 2011.
"The program aims to build social houses and local cultural works to improve living conditions of residents who live on the Truong Son road (also known as the Ho Chi Minh trail). We will also use the fund to build sanctuaries and shrines along the trail, and also the border separating Vietnam from Laos and Cambodia, to remind people of the route of our soldiers to liberate the South."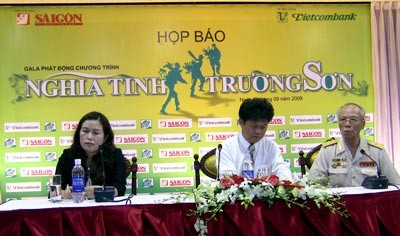 At the Nghia tinh Truong Son" (Sentimental Attachment for Truong Son Road) press conference September 11.
Earlier, from July 27, the program called on people to enrich the fund for poor families whose members contributed much to ensure the country's peace.
The fund will be used in many ways, including building social houses for war veteran poor families, offer scholarships to their children, building clinical offices and examining and treating patients in remote areas free-of-charge.
The highlight of the program is a gala concert on September 15 at Hoa Binh Theatre, HCM City, to officially launch the fund.
The concert director, Tran Vi My, will bring back the memorable portrait of the legendary Truong Son road with a medley of various immortal songs, like Dat nuoc (Nation), Mau hoa do (Pink flower), Bai ca Truong Son (Truong Son Mountain's song), Truong Son Dong – Truong Son Tay (West and east of Truong Son Mountain) and Me (Mama).
The confirmed artistes are "Meritorious Artiste" Quang Ly, Dam Vinh Hung, Phuong Thanh, Cao Minh, Thanh Thuy, Cao Thai Son, Huong Giang, Dong Quan and the three bands of Ao Linh, VCB and Giai Dieu Xanh.
At the concert, audiences will have an opportunity to ask Major General Phan Khac Hy and SGGP staff questions about their recent charity activities on the Truong Son road.
All donations are welcomed at SGGP's main office: 432-438 Nguyen Thi Minh Khai Street, District 3, Ho Chi Minh City, or can be paid into to the fund's bank account: 0071005154702, Vietcombank – Ho Chi Minh Branch.
Besides the main sponsorship by Vietcombank – Ho Chi Minh Branch, for the whole program, the fund also received a recent donation of VND5 billion (US$270,000) from Pepsico.