The annual culture, fashion and music show "Duyen Dang Viet Nam" (Charming Vietnam) is set to inspire guests this year with a bold, new concept and dynamic performances.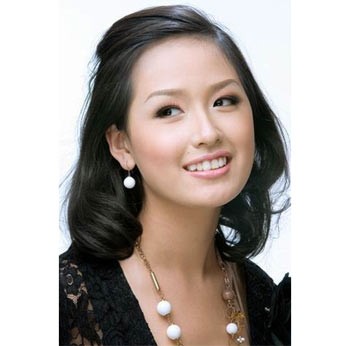 Miss Vietnam 2006 Mai Phuong Thuy, well known for her philanthropy, will help present scholarships on March 21 during the annual "Duyen Dang Viet Nam" (Charming Vietnam) show in Phu Yen Province
Running March 20-21 in the south-central coastal city of Tuy Hoa, Phu Yen Province, this year's theme is "Nhip tho bien" (Breath of the Sea).  
The charity event, organized by Thanh Nien Newspaper, Thanh Nien Media Corp., Phu Yen Province People's Committee, Vietnam Television, and Thuan Thao Jsc, is now in its 22nd year.   
Director Nguyen Quang Dung will spearhead this year's Charming Vietnam, and promises audiences will be treated to a host of new features. Dung is renowned for his filmmaking including "Nu hon than chet" (Kiss of Death) and the recent "Nhung nu hon ruc ro" (Resplendent Kisses).  
Composers Huy Tuan and Huyen Thanh, meanwhile, will lead the event's musical numbers. 
This year's show will also be divided into two parts: music and fashion. The musical section will feature emotion-filled performances by veteran singers like Elvis Phuong, Huong Lan, Cam Van, Thanh Lam, My Linh and Hong Nhung.  
Young musicians will also participate including Ha Anh Tuan, Phuong Vy, Anh Khang, Minh Kien and Anh Khoa. Vocal group Cadillac is set to accompany the singers during their performances. 
The fashion component will see at least three collections by local designers featured onstage. Included in the line-up is the latest Ao dai (traditional Vietnamese tunic) collection by designer Lien Huong; the "Impression at Sea" collection from Son Collection; and an Ao yem (traditional northern under-costume) collection by designer Thuan Viet.  
A full list of performers was revealed at a press conference in early March. Included in the list is Miss Vietnam 2006 Mai Phuong Thuy, as well as many other popular personalities from the fashion and entertainment industry.  
Thanh Hang (Miss 2002 Vietnamese Women – voted via photos); Huong Giang (ranked Top 3 "Sexiest Women Alive" by the Global Beauties website); Nguyen Ngoc Bich (second runner-up in the Miss Vietnam 2004 pageant); and Vu Thi Hoang Diep (Miss International Beauty 2009), are all set to take part. 
Organizers also said that during the event, several scholarships will be awarded to students in Phu Yen Province. 
Tickets to the Charming Vietnam event cost from VND200,000 (U$$10) to VND2 million ($100). A portion of all ticket sales and donations collected during the show will go towards the Nguyen Thai Binh Fund for poor students and the Vietnamese Talent Fund, both organized by Thanh Nien Newspaper. 
The March 21 show will be broadcast live on two local TV channels, VTV3 and VTV4, beginning at 8:30pm.