An exhibit of children's film posters entitled "The World of Children" is being held at the Ho Chi Minh City Women's Cultural House at 192-194 Ly Chinh Thang Street in District 3 from now until June 30.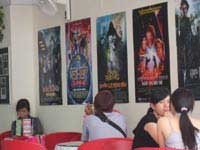 Exhibition of children's film posters entitled "The world of children" will last to June 30.
Nearly 90 posters and brochures collected over the past several years by Ms. Nguyen Thi My Loan, an official of the HCMC Feature Film Company, will be exhibited.

This is an activity to serve children and movies lovers this summer. The colorful posters have attracted a very large "little audience" and help children better understand the role of movies in their lives.

The posters are from such famous films as Harry Potter, Bee Movie, Enchanted, Iron Man, Home Alone, Lord of the Rings, and Stars War.