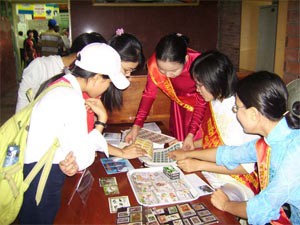 Many young people are nowadays interested in stamp collecting.
Sixteen stamp collections belonging to young stamp collectors are on display at the "Children's Stamp Exhibition 2007" to mark the 10th anniversary of the Ho Chi Minh City Children's Cultural House Stamp Collecting Club.
The winning entries to a recent Youth Asian Stamp Contest 2007 are also on display. The Viet Nam Stamp Association's representative gave awards to the 1st winning entry titled "My dream" by collector Ha Cong Nguyen Khanh and collector Duong Nguyen Duy Khanh who won second prize for his collection "Flags of the ASEAN's countries".
The exhibition is taking place at the HCMC Children's Cultural House from now until July 8.