Vietnamese writer Nguyen Nhat Anh who wrote Cho Toi Xin Mot Ve Di Tuoi Tho (Give Me Ticket to Childhood), was granted with the Southeast Asian Writer Award by Thai Prince Maha Vajiralongkorn on November 5.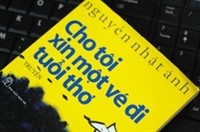 The first cover of the novel Give Me Ticket to Childhood by Nguyen Nhat Anh
The event was held at the Mandarin Oriental, Bangkok, with the participation of Thai Prince Maha Vajiralongkorn and Princess Srirasm at the awards dinner and presentation ceremony.
The novel, combining the happy childhood memory and the real adulthood memories, has won critical acclaim of local writers and critics. It received an award from the Vietnamese Writers' Association in 2009.
Nguyen Nhat Anh is an author of incisive stories for both teenagers and adults. He is also a teacher, a poet and a Sai Gon Giai Phong's journalist . He is regarded as one of the most successful writers for teens. His most well known novel, Kinh Van Hoa(Kaleidoscope), with 54 volumes has recently been filmed depicting teen's life and study.
The SEA Writer Award, introduced in 1979 by the Thai Royal Family. The awards are given to a writer from each member state of the Association of Southeast Asian Nations.
Since 1996, the award has honoured 14 Vietnamese authors, including 3 poets, 11 writers. Sai Gon Giai Phong Newspaper has had two writer-journalists winning the award. Sai Gon Giai Phong Deputy Editor-in-chief Tran Van Tuan won the award in 2007 with novel Rung Thieng Nuoc Trong (Holly Forest and Pour Water).