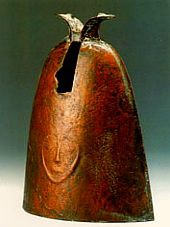 A bronze bell in the display.
More than 80 antiques selected from over 100,000 objects excavated in China's Guangxi province will be on display to the public for the first time at the Viet Nam National Museum of History in Ha Noi from March 9 to May 20.

Although the number of objects on display is relatively small, the exhibition offers an excellent cross-section of a culture that flourished in the Guangxi region 4,000 years ago, Guangxi Zhuang Autonomous Zone Museum Curator Lan Ri Yong said.
Artefacts on display include shovels, bells, bracelets, knives, swords, drums, lamps, and bowls. Materials used in their construction include stone, pearl, bronze, gold, iron, ceramic, and agate.