A festival highlighting the Chinese Vietnamese community living in Vietnam wrapped up yesterday after a successful six day run. The festival, known as "Chinese Day", took place between February 28 and March 4 at the April 30 Park in Ho Chi Minh City.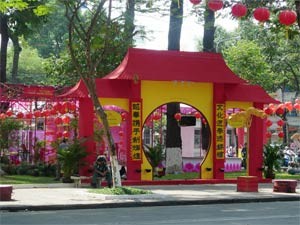 A traditional Chinese gate at the Chinese day festival. (Photo: H.Uy)
The colorful festival, featuring the works of more than 2,000 artists from Chinese vietnamese communities throughout Viet Nam as well as China and Hong Kong, attracted more than 200,000 local and foreign visitors.
"Chinese Day is an opportunity for visitors to learn about the land, people and culture of the Chinese Vietnamese. The event also allows Chinese-Vietnamese  visiting from abroad to gain a deeper understanding of the land and people of Viet Nam as well as highlighting the country as an attractive place to work and live in", Nguyen Thanh Tai, standing Deputy Chairman of the HCMC People's Committee, said.

During the festival, members of the local Chinese business community donated VND6.8 billion to the Ho Chi Minh City "Fund for the Poor".

Related articles:
Biggest Ever Chinese Day in Ho Chi Minh City
Cultural Festival of the Chinese-Vietnamese 2007 Planned