The actor and pop singer Raymond Lam arrived in HCM City on July 20, and will stay at the Caravelle Hotel for three days until his concert on July 22.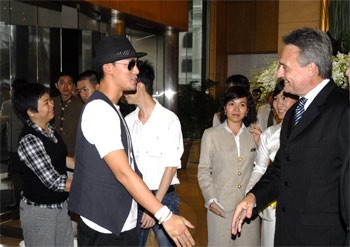 Raymond shaking hands with the Caravelle's general manager John Gardner at the main hall of Caravelle Hotel on July 20 (Photo: Khoa)
At the airport, while checking out, the Chinese singer kept smiling and waving to about two hundred local fans, who had braved the bad weather and queued up at the airport since early morning.
 
Some of his local fans even chased after his car and kept shouting out his name.
 
At the Caravelle, some senior members of his Vietnamese fan club were in attendance to catch a glimpse and take photos of their idol.
 
SGGP caught up with the head of the club, Nguyen Xuan Trang, about preparations for the upcoming fan meeting, which is to be held at the Khong Ten (Nameless) Bar.
 
Trang said: "All Raymond Lam items, including CDs and posters, were sold out quickly and nothing is left to be put on sale at the fan meeting. The fan meeting is simply an opportunity for fans to meet and talk with their idol."
 
Raymond Lam arrived at the hotel and quickly checked in without posing with fans or answering questions from the press.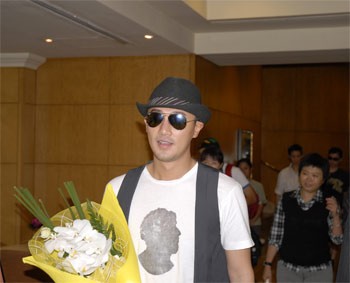 Raymond arrives at the hotel without stopping to sign autographs (Photo: Khoa)
While talking with an organizer, SGGP learned that Raymond Lam came to city with just "ten" suitcases.

Raymond Lam is famous for his acting career at Hong Kong's TVB channel and later releasing three albums.
 
The concert on July 22 at the Saigon Exhibition and Convention Center, District 7, is the opening part of his Asia Tour. 
Three local guests confirmed to perform at the show are Ho Ngoc Ha, Luong Bich Huu and Bao Thy. One of them may sing a duet with Raymond.
 
Besides the musical performance, audiences can enjoy a small fashion show by designer Ngo Nhat Huy

Related articles: 
TVB star to come to city
Chinese pop singer to start Asia tour in Vietnam