The Phuong Nam Corporation opened their book discount fair at the HCMC Exhibition House in district 1 April 7. The fair will remain open until April 12.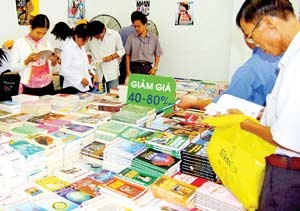 Some visitors reading books at the section of books at discount of 40-80 percent at the fair April 7 (Photo: SGGP)
The fair gathers about 14,000 book titles from variety of categories like literature, basic science, history, and foreign language books. All of these are being sold at a discount up to 90 percent.
 
Besides the books  by local writers on sale at the fair, there are also some Vietnamese translation books from the worldwide bestsellers books, like "The art of power" by Thich Nhat Hanh, "Crazy in love" by Lani Diane Rich and "Barack Obama: The Audacity of Hope" by the U.S President Barack Obama.
   
The fair has also offered original music CDs and tapes at a discount from 10 to 40 percent.