The city is being festively decorated for the holiday weekend and bustling with fun activities for the whole family.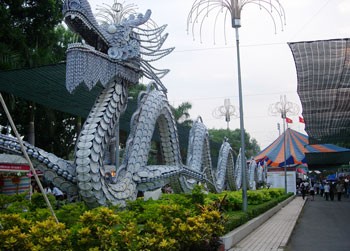 Dam Sen Park  (Photo:KK)
Many of the city entertainment venues are busy these days preparing exciting activities and entertainment programs in order to mark the National Reunification Day (April 30) and International Labor Day (May 1) more enjoyable for the city residents.

Concerts titled 'Victory song" and "Bustling summer" will take place at the 23/9 (September 23) Park and the Youth Cultural House on May 1.

Well-known singers will be on stage, such as Ta Minh Tam, Dam Vinh Hung, Anh Bang, Thanh Thuy along with cai luong actor Trong Huu and cai luong actress Que Tran.
Dam Sen Cultural Park and Suoi Tien Tourist Area is set to lure visitors with musical and dance performances, comedies and puppetries as well as various other amusements. One of the highlights is a fireworks show at 9 pm in Dam Sen Park on April 30.
Drama theaters in Idecaf, 5B Vo Van Tan, Hoang Thai Thanh, Phu Nhuan and Superbowl will present drama plays to audiences.
Meanwhile cinemas expect to attract a great number of people with Hollywood blockbuster films such as Rio, Fighter, Big Momma's House 2, Thor, All's well that end's well, Source Code and some Vietnamese movies including Saigon Yo and Abolishment.
Many music shows will be held at Trong Dong and 126 stages from April 30 to May 2.