Ho Chi Minh City's theaters and entertainment venues have invested much time and energy this year to offer special activities for the festive season.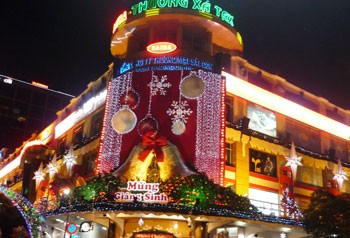 Ho Chi Minh City's entertainment venues are decorated splendidly in these days. (Photo: KK)
In addition to Phu Nhuan Theater and Hong Van Drama Theater, the Van Tuan Entertainment Company has just opened its new stage at Superpowl Supermarket in Tan Binh District. The venue will stage "Saigon's Smile" directed by Doan Khoa on December 24, said Director of the company Meritorious Artist Hong Van.

Idecaf Theater, meanwhile, introduces a children's play about the Sūn Wùkōng (Monkey King) from the classic Chinese novel Journey to the West by Wu Cheng'en at Ben Thanh Theater.
HCMC Drama Theater artists will be performing a comedy at Cong Nhan Theater, while comedian Minh Beo has also released a musical comedy on DVD with participation of several famous artists.

Movies have also been extremely popular during the holiday season.

Tickets for the 3D version of the sci-fi blockbuster "Avatar" have sold out in Hanoi and HCMC cinemas through January 2010. The picture is regarded as the most ambitious 3D film ever to appeal to a worldwide audience.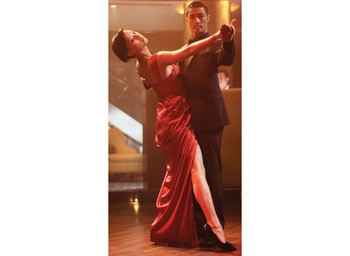 Actress Ngo Thanh Van and actor Johnny Tri Nguyen in the film Bay rong (Dragon trap)
Another foreign film directed by Dominic Sena, "Whiteout," is screening at Galaxy cinemas.
HCMC's Megastar cinema, meanwhile, will offer a free screening of the animated movie "Chipmunks 2" for 100 children from 8-12 years of age, accompanied by parents, on the morning of December 27 at Megastar Hung Vuong in District 5.
Vietnamese action film Bay rong (Dragon Trap) featuring actor Johnny Tri Nguyen and actress Ngo Thanh Van will also screen nationwide during the festive season.
HCMC's Dam Sen Culture Park will host a masquerade for teenagers, and music and fashion show in celebration of Christmas. In addition, two plays, "Aladin and the Magic Lamp" and "The Little Mermaid," will be performed by Idecaf Theater troupes in the park. Hundreds of families are expected to attend.
There is no admission charge for visitors who dress up as Santa Claus.
The Suoi Tien Tourist Area, situated 19km northeast of HCMC on Hanoi Highway, is decorated with millions of colorful lights and features a snow forest, magical castles, the Cave of Bethlehem, the holy city of Jerusalem, Saints, Santa Claus and angels.
A week-long children's book exhibition featuring more than 2,000 titles is also being held from now until December 25 at Saigon Centre, 65 Le Loi Street in HCMC's District 1; Sky Garden on HCMC's Nguyen Van Linh Street in District 7; and Vincom Galleries in Hanoi's Hai Ba Trung District. The event is organized by the Phuong Nam Cultural Joint Stock Corporation.