The Ho Chi Minh City Fine Arts Museum inaugurated a new exhibition room at their head office on 97A Pho Duc Chinh Street in District 1 on April 23.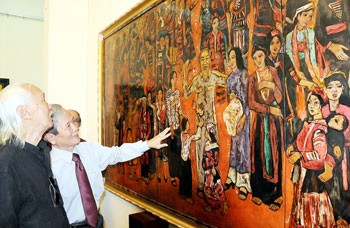 The painting "Uncle Ho and Vietnamese nations " by painter Quach Phong is on the display. (Photo: Sggp)
A display featuring more than 300 exhibits collected from 2006 to 2010 marked the opening of the new exhibition space.
Visitors will have a chance to enjoy famous lacquer paintings by Nguyen Gia Tri, hand-stamped silk paintings by Tu Duyen, silk paintings by Le Thi Kim, woodcarvings by Tran Nguyen Dan, sculptures by Dinh Ru and oil and lacquer paintings by Quach Phong.
There are also contemporary fine art works in various mediums, styles and subjects by Do Tuan Anh, Pham Nguyen Can, Nguyen Thanh Chau, Nguyen Tan Cuong, Truong Han Minh, Trang Phuong, To Sanh, Bui Hai Son, Pham Thanh Tam, Tran Van Thao, Ca Le Thang and many others.
The exhibits also include paintings and sketches created during the two resistance wars by Vu Ba, Tran Quang Bo, Truong Cham, Huynh Phuong Dong, Le Lam, Pham Mui, Phan Oanh, Phan Phuong Truc and Vo Xuong.
Visitors are left with a deep impression after seeing images of the daily life and activities of people in the South, vividly created by the artists. Also on view are landscapes, portraits and still life paintings created before 1975.
The Ho Chi Minh City Fine Arts Museum is the biggest fine arts museum in the country and attracts a large number of visitors annually.