The Thang Long Charity School, which provides free English classes and vocational training to poor children, opened the photo exhibition "Children Photographing Children" on Friday.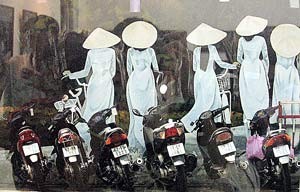 Paiting "Memory" by Dao My Tran is on display.
The exhibition is a collection of 44 photos taken by 13 photographers aged from 12 to 15 who are learning photography at the school.    
The young photographers seem to understand and feel the genuine emotions of the life around and have captured them in their artwork. The projects were about the ordinary life around these children and also some daily activities.  
The exhibition opens at IDECAF until 28 March 2008.