The Vegetarian Food Festival 2010 is being held for the first time at the District 1's September 23 Park in HCM City from August 26 to 29 in the Buddhist Vu Lan season.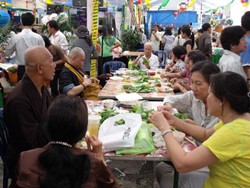 2010 Vegetarian Food Fair will attract thousands of people with hundreds of delicious dishes.
Vu Lan season annually falls on the 7th lunar month. This is the time for people to express their gratefulness and appreciation for their parents.

The food fair themed "For the Health and Environment" aims to raise public awareness of the benefits of eating vegetarian food and reduce meat consumption as a way to protect the environment because livestock farming is one of the major contributors to greenhouse gases, said the organizer, the HCM City's Association of Enterprises.

Visitors can enjoy more than 100 dishes at 80 display booths of vegetarian restaurants and temples in the city and its surroundings.

The festival starts with a Colours of Vegetarian Food cooking contest on August 26. Other activities including a grateful mother Night, "In the kitchen with celebrities" program, talk on "the trend of modern vegetarian cuisine" with the participation of many reputable experts in the field of nutrition, health, moisture food, environment and more will take place during the food show.

The organizer hopes the festival will become an annual event and interesting tourism product to attract domestic and foreign tourists to the city.