The Vietnam Fine Arts Branch in Khanh Hoa province in collaboration with Russian Consul Genera in Ho Chi Minh City and HCMC Fine Arts Museum held a press conference on March 3 in order to introduce the fifth fine arts exhibition under theme of "Handshake together", with the participation of 16 Russian and Vietnamese painters.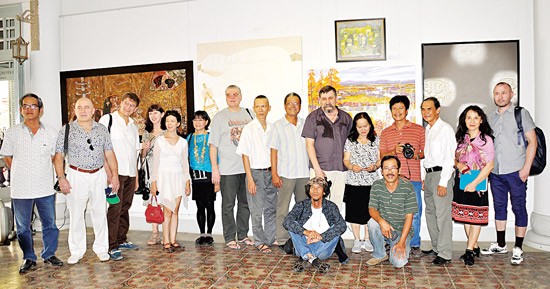 Two countries' painters pose photo together.
The 'Handshake together' exhibition becomes an annual fine arts exchange activity between Vietnamese and Russian artists, aiming to introduce the best impressive entries to fine arts- lovers.
This year's exhibition attracted the participation of 16 artists from Vietnam and Russia with 80 entries such as Vladimir Khrusnov, Sergey Gorbachev, Konstantin Kuzminvkh, Filatov Alexey, Butusov Ilya Ivanovich, Ho Minh Quan, Ho Thi Xuan Thu, Tran Quyet Thang, Nguyen Thi Du Du, Nguyen Trong Dung, Nguyen Huu Bai, Nguyen Thuong Hy, Ngo Thi Bich Ngoc, Le Van, Le Hung and Bui Van Quang.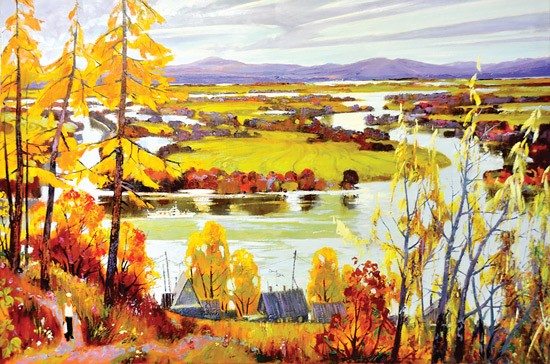 Painting 'Tunguska' by Vladimir Khrusnov.
It was launched in 2012 for the first time based on the ideas of Olga Zotova from Far Eastern University and Bui Van Quang painter, head of the Vietnam Fine Arts Association in Khanh Hoa branch.
This is the second times the exhibition has been organized in Ho Chi Minh City after Nha Trang city (Khanh Hoa), Vladivostok city (Russia).
The event is taking place at HCMC Fine Arts Museum No. 97 A Pho Duc Chinh Street, district 1, HCMC and will last till March 12.