More than 100 photos of fine art, ancient architecture and sculptures of Thang Long – Hanoi are being displayed at Ho Chi Minh City Fine Arts Museum.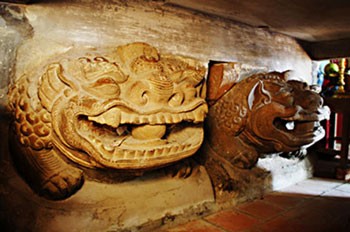 A photo of stone-statues of the Lion
The pictures illustrated the beauty of the Mot Cot pagoda, built in 1049 during the Ly Dynasty; the Kim Lien pagoda, stone-statues of the Lion of the Ly Dynasty; many Buddhist statues and others.
The exhibition details just a part of the capital's a huge art heritage, with nearly 1,500 temples and pagodas, more than 25,000 statues, sculptures and other ancient objects.
The display was co-organized by the HCMC Fine Arts Museum and Vietnam Fine Arts University to mark the 85th anniversary of the founding of the university and Grand Celebration of the 1000th birthday of the capital. It will run through July 30.