Ho Chi Minh City hosted the annual Vietnamese film awards organized by the Vietnam Cinematography Association, to present the prestigious 2012 Golden Kite Awards to outstanding members of the film fraternity.
The 2012 Golden Kite nominees included 11 feature films, 18 video films, 24 short films, 13 animated films, 37 scientific films, 10 documentaries, and 13 cinematography research works.
The film 'Thien Menh Anh Hung' (Blood Letter) was awarded the best feature film. The film also received many other prizes. Victor Vu won 'best director' award and 'best actor' award went to Huynh Dong.
The film's cameraman Nguyen K'Linh won the award for 'best cameraman'.
Directed by Victor Vu, 'Thien Menh Anh Hung' portrays the difficult fate of a five-year-old boy, grandson of national hero Nguyen Trai, after his family was massacred during the Le Dynasty.
Dinh Y Nhung won 'best actress' award for her role in the film 'In the Name of Love' (Lay Chong Nguoi Ta).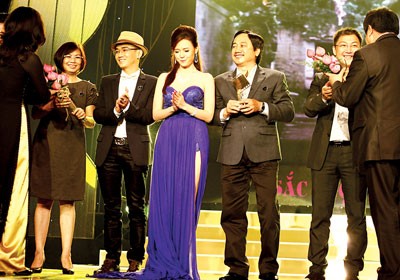 The production crew of Thien Menh Anh Hung (Blood Letter) receives the Golden Kite Award
The media prize went to 'Bi Mat Tham Do' (Scandal), an exploration of the dark side of show business through the life and love of a young actress.
'Lost' (Lac Loi) by female director Pham Nhue Giang came second in the best feature film category.
Even though its controversial content has delayed its public release, the video film 'Thai su Tran Thu Do' (Great Tutor Tran Thu Do) was honored as the 'best TV series'. It also helped director Dao Duy Phuc and writer Nguyen Manh Tuan win 'best director for TV series' and 'best script for TV series'.
Actor Hua Vy Van and actress Maya were named 'best supporting actor' and 'best supporting actress.'
'Best actor for TV series' and 'best actress for TV series' went to actor Quy Binh and actress Hue Minh.
This year's ceremony also honored other categories including scientific, documentary, short film, cartoon, research work and film criticism.