The 2nd International Contemporary Music Festival wraps up at the Ho Chi Minh City Conservatory of Music today.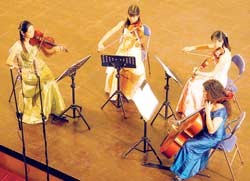 The lotus string quarter perform at the concert.
The three-day annual festival featured musicians from the US, Turkey, the Philippines, Norway, Singapore, China and Viet Nam.
The Lotus string quartet comprising violinists Le Hoang Lan and Dao Mai Anh, viola player Tran Hoang Yen, and cellist Tran Thi Mo gave a performance yesterday.
They presented contemporary and classical works by Do Kien Cuong, Vu Nhat Tan, Hoang Duong, Dirk Johan Stromberg, Geir Johnson, and others.