Viet Nam's fourth International Photo Exhibition, "For a Better Life on Earth", features more than 300 pictures by Vietnamese and International photographers.  The exhibition is being held at the Ho Chi Minh City Museum of Fine Arts from the 18-30 October 2007.
A photo titled Dang Xuan by Vuong Quoc Kim is displayed at the exhibition.
A contest launched on March 15 and running to July 15, also titled "For a Better Life on Earth", was the inspiration for the exhibition.  The competition attracted an amazing 5,717 works by 1,042 photographers.

Of these, there were 731 pictures by 148 international photographers coming from 22 countries. 

The countries included France, Germany, China, Australia, Bangladesh, Canada, Belgium, Finland, Holland, Russia, Denmark, Spain, and Sweden.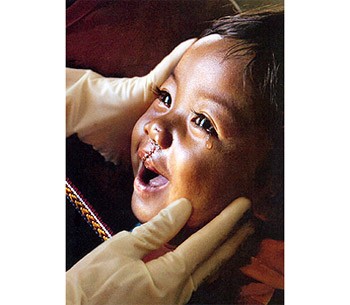 The picture themed New smile by Vu Thi Tinh wins the gold medal.
The gold medal was given to the photo entitled "New Smile" by Vietnamese photographer, Vu Thi Tinh. 

The work portrayed the face of a child with the radiant smile.  One of an ethnic minority group, this boy recently underwent surgery to repair a cleft palate and lip.  With the incision still visible on his lip; he is smiling brightly but has a solitary tear leaving his eye.

"Photographic entries included portraits, daily activities, landscapes, and festivities and all expressed a thirst for a better life, the beauty of humanity, nature and the living environment. The competition also demonstrated that Vietnamese photographers were in no way inferior to International artists", said the Chairman of the Viet Nam Association of Photographic Artists, Chu Chi Thanh.

The contest was jointly organized by the Ministry of Culture, Information and Tourism, the Viet Nam Association of Photographic Artists (VAPA) with support by the International Federation of Photographic Art (FIAP).