A painting exhibition on the Vietnam War and the armed forces to mark the 36th anniversary of National Reunification Day (April 30) is on at the Ho Chi Minh City Fine Arts Museum.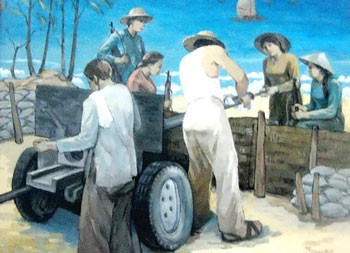 A painting by Nguyen Thanh Minh
The exhibition also celebrates the 10th anniversary of the establishment of the war veteran painters club.
Around 255 works in various mediums such as oil, lacquer, watercolor, pottery as well as painted diaries recalling years of war and images of the late President Ho Chi Minh, Vietnamese heroic mothers and Truong Sa archipelago are on display.

Fifty one artists including Huynh Biec, Huynh Phuong Dong, Nguyen Duc Tho, Tran Son, Lai Ngoc Tuyen, Vo Xuong, Dang Ai Viet, Trang Phuong, Nguyen Thanh Chau, Pham Quang Can, Bui Quang Anh, sculptors Tran Thi Phuong Dung and Ta Kim Dung have displayed their works.

They are mostly members of the Vietnam War and People's Armed Forces Club of the Vietnam Fine Arts Association.

The exhibition also aims to commemorate member artists who sacrificed their lives in the war.

The display is on until May 6.