The 3rd Ho Chi Minh City Sculpture Exhibition 2012 presenting impressive and creative art works is being held at the Van Thanh Tourist Complex in Binh Thanh District.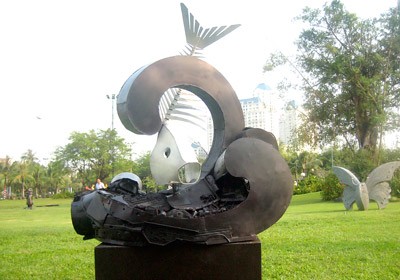 Black tide by Tran Quang Vinh  (Photo: Sggp)

The exhibition displays 64 sculptures by 50 artists such as Dinh Ru, Lam Quang Noi, Nguyen Le Thuy, Phung Chi Thu, Nguyen Tan Cuong, Phan Ngoc Long, Luong Van Thanh, Tran Viet Hung, Tran Huu Thoi, Le Lang Bien, Nguyen Vinh, Tran Quang Vinh, Do Thinh, Nguyen Hoang An and Tran Tuan Nghia.
The outdoor exhibition at the tourist complex has helped visitors reflect on the art works and arouse interest in people for creative art works.