A music performance, the first of a series of events to celebrate 'Japan-Mekong Exchange Year 2009,' will be held at the Ho Chi Minh City Teachers Training College on March 5.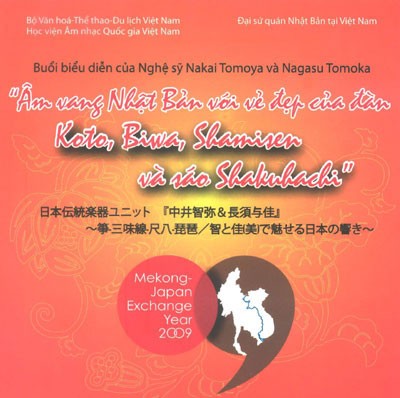 Leaflet for the festival
Another performance was held earlier in Hanoi on March 2-3.  
 
Japanese musicians Nakai Tomoya and Nagasu Tomoka will be performing.
 
They will introduce the history, composition and style of Japanese traditional instruments, such as the Biwa, 25 and 13 hole Koto and Shakuhachi flutes. It is hoped to broaden Vietnamese knowledge of Japanese culture.
 
Entrance is free.
 
The Exchange Year will comprise more than 50 events held in Japan, Vietnam, Cambodia, Laos, Myanmar and Thailand throughout 2009.