The 8th Book-Culture and Development Fair will be held at Le Van Tam Cultural Park in District 1, HCMC from March 24-30.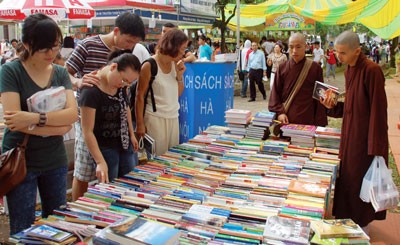 The book fair attracts many readers (Photo:SGGP)
The event is hosted by the People's Committee of HCMC and will have 156 leading local and foreign publishing houses with over 500 booths. Publishing houses participating in the event include Kim Dong, Youth, Ho Chi Minh Hachette Us, Quercus, Simon & Schuster, and Scholastic Publishing House.
The fair will showcase 20 million books with over 200,000 titles. Classic Vietnamese novels will be the main attraction. Exhibitions such as documents of sea island sovereignty, General Vo Nguyen Giap, Dien Bien Phu Victory, and various others will be available for viewing.
In addition to book fair, the organizers will hold an exchange program to honor Don Ca Tai Tu Nam Bo, which has been recognized by UNESCO as an Intangible Cultural Heritage of Humanity.
Kim Dong Publishing House will be participating in the book fair. The publisher will hold interviews with outstanding writers and seminars about historical books for children.
Youth Publishing House will introduce to readers more than 400 latest books, reprinted book in the fields of Vietnamese and foreign literature, historical book, training book and others.
HCMC publishers will hold short interviews with veterans who participated in the Dien Bien Phu Campaign.
The annual book fair is considered as one of biggest cultural events of the country.