Recently it has not been easy to find an appropriate place to read and present literary works in the city.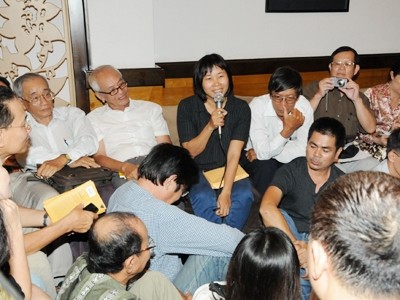 Writer Nguyen Ngoc Tu (black T-shirt) meets readers to discuss about her new book at Saturady Cafe in Ho Chi Minh City on November 12. (Photo: Tien Phong)
Publishing houses often choose coffee shops for book releases and exchanges between writers and readers because of their convenience and low cost.

However, the constrained space of a cafe can not seat a large number of people. Writers need to have a large gathering of fans.
Nguyen Ngoc Tu, the best selling author of "Endless field" (Canh dong bat tan), presented her latest work, "Splendid smoke in the sky" (Khoi troi long lay), at the Saturday café in Ho Chi Minh City last November.  The small coffee shop soon became uncomfortably congested with hundreds of people.
Ho Chi Minh City Book Distribution Joint-Stock Company (Fahasa) and Phuong Nam Cultural Joint Stock Corp (PNC) that own the largest bookstore chain in the country have successfully organized book releases and exhibitions at their bookstores in Xuan Thu and Tan Dinh in District 1, PNC bookstores on Nguyen Oanh Street in Go Vap District and Le Duan Street in District 1.
Local authorities admit that bookstores have made great efforts in building a reading culture in the city and organizing reading cultural events.