Cultural activities across Ho Chi Minh City will mark the Death Anniversary of Hung Kings on April 19 this year--the tenth day of the third lunar month.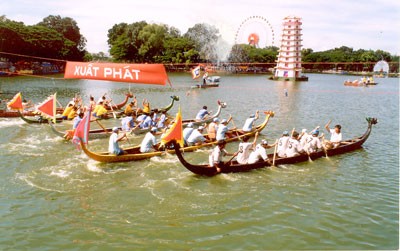 A commemorative boat race at Dam Sen Cultural Park on April 19-20 (Photo: SGGP)
Dam Sen Cultural Park will organize an incense offering ceremony to commemorate Hung Kings at 5.30pm today, April 19. After the ceremony, visitors will have a chance to exchange with People's Artist Le Thuy and see her perform Tan Co Giao Duyen songs.
From April 19-21, park visitors can attend traditional games, a competition to eat Chung and Day cakes and a cuisine area providing popular dishes like Gai cake, boiled corns, lotus seed sweet soup and southern fruits.
A cake making contest was co-organized by the Vietnam Fatherland Front Committee and Dam Sen Cultural Park on morning of April 19 in District 11.
A traditional boat race has also been organised with 50 participating teams at the park from April 19-20.
Suoi Tien Tourist Site held a ceremony to offer incense and 4,000 Chung and Day cakes to the Hung Kings on Friday.
The HCMC Historical and Cultural Park in District 9 coordinated with the Youth Cultural House to organize a traditional camping festival at the Hung King commemorative area in Long Binh Ward on April 18-19.
The camping festival attracted more than 1,200 students, youth and military soldiers. They also attended a book festival there. Most books are on culture, history and literature.
A photo exhibition on Hung Kings' is on from April 2-24 at the HCMC Women Cultural House.
The HCMC History Museum is also running a photo exhibition on 54 ethnic minority groups of Vietnam at the Hung King Temple. A photo exhibition on the reign of the Hung Kings is on at Hung Vuong Secondary School, Phu Nhuan Cultural Center and Phu My Hung Commercial Center.