The city of Ha Noi will spend more than VND9 billion (US$550,000) to preserve and promote cheo, or Vietnamese Traditional Opera, from now until 2013, according Ha Noi Cheo Theater, the owner's project.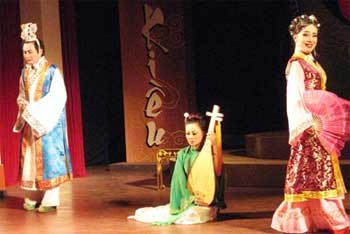 A scene in the play "The Story of Kieu" performed by Ha Noi Cheo Theater's artists.
The cheo safeguarding project will include the restoration of typical traditional plays, a training scheme for young artists, and the publication of books of cheo art.
Beside preserving and developing cheo through training and performances, Ha Noi Cheo Theater usually present to the audience extracts from popular cheo operas on Monday, Wednesday and Friday at a 200-seat stage. Cheo is a popular form of folk opera in the northern delta.