Ho Chi Minh City is currently bustling with activities for Christmas and New Year and for the coming Tet holiday season.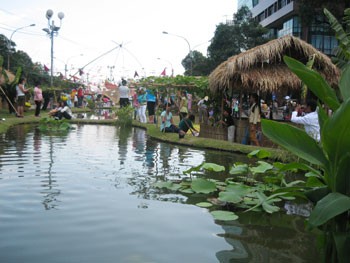 (File) Nguyen Hue Flower Street is decorated with small scenes of Vietnamese countryside, such as lakes, fields, and peace village (Photo: KK)
The "Shining welcome for New Year" program will feature thousands of colorful lights along main city streets like Dong Khoi, Le Loi, Nguyen Hue and Le Duan in District 1 from December 26 to February 3, 2012.

The City has planned firework displays in the Thu Thiem area of District 2 and Dam Sen Park in District 11 on New Year's Eve. In addition, an out door music performance will take place on Nguyen Hue Street from 9 pm-12 midnight on December 31.

The much awaited annual flower display on Nguyen Hue Flower Street titled "Vietnam, my country" during the coming Tet Lunar New Year will open from January 20 until January 26 (December 28 - January 4 on the lunar calendar).

Another festival, the Banh Tet (cylindrical glutinous rice cake) festival will take place from January 16-20, 2012. Started in 2004, the Banh Tet festival is celebrated every year with a focus on poor and needy people of the city and helping them to enjoy a warm and joyful Tet. The event will open with a Banh Tet cake making competition, in which 10,000 cakes will be baked and then distributed to poor families and disadvantaged children in HCMC.

An outdoor music performance on Nguyen Hue Street from 9pm-12midnight on January 22 (December 29 on the lunar calendar) and firework displays in several locations around the city will ring in the New Year.

The Ho Chi Minh City Department of Transport announced a plan to temporarily halt traffic construction works and repair of roads and drainage systems during the period December 31-January 1 and from January 8-30, 2012.