Ho Chi Minh City has planned a series of fun activities to welcome the New Year, most of which will be held in District 1 on December 30 and 31.
A laser and water show, LED and other attractive lightings, circus acts by international artists like Dennis Ignatov, Jennifer 'Foxie' Marie Drilling, and 'Cheetah' Russell Platt will be organized along Nguyen Hue Street.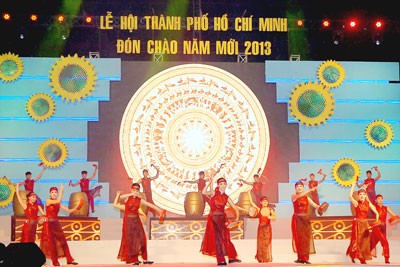 A performance in September 23 Park (Photo: Nguyen Nhan SGGP)
There will also be DJs Mark Jolly, Drew Tudose, Alan Pham, Jessica Nguyen, and singers Ho Ngoc Ha, Thu Minh, Ha Anh Tuan, Ha Okio, Minh Thu, and Ngo Thanh Van.
The party will begin at 6pm on both days, and the countdown will begin 15 minutes before midnight on New Year's Eve.
Since December 26, on the main stage of Area A in September 23 Park, a colorful program is being held to begin the countdown to the New Year.
On the opening night, artists of the traditional music band Bong Sen performed excellent shows.
On this stage on the nights of December 27, 28, 29 people will enjoy more art performances like folk dancing and singing.
The City will organize two firework displays on New Year's Eve. The 15 minute displays will be set off at Saigon river tunnel in District 2 and Dam Sen Cultural Park in District 11.
The festivities will last till the end of January 1, 2013.