The Ho Chi Minh City Fine Arts Association is holding a painting exhibition called "Portraits" featuring works by young Vietnamese artists.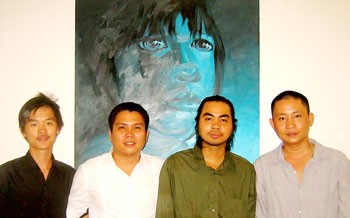 Painters Van Kim Toan, Nguyen Van Hoach, Pham Huy Hoang and Nguyen Duy Nhut. (from L to R) (Photo: Sggp)
The exhibition shows various moods in a painters' life and includes works by Nguyen Van Hoach, Pham Huy Hoang, Nguyen Duy Nhut and Van Kim Toan.
The exhibition includes portraits of H'Mong and Cham ethnic minority girls, young modern people of today and weather beaten faces of poor laborers and immigrants.
In related news, the Dogma Prize for Self Portraits has just been launched by British collector Dominic Scriven and the Mekong Artists Company.
Winning entries will be selected for the 'Vietnamese Self Portraits for the Dogma collection Exhibition' that will take place at the HCM City Fine Arts Museum on July 12.

The Dogma Prize aims to encourage and foster self portraiture among emerging and established Vietnamese artists.
British collector Dominic Scriven has bought more than 70 self-portraits by Vietnamese artists since 1994, adding more to his collection annually.