A piano duet is set to whet the classical appetites of city music lovers on November 14, when Russian pianist Igor Chystokletov and local pianist Nguyen Thuy Yen perform at the HCMC Conservatory of Music.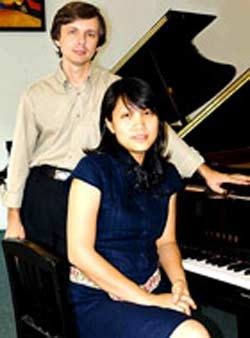 Mr. Igor Chystokletov (L) and Ms. Nguyen Thuy Yen will have duet performance on November 14.
Born into a musical family (his parents are a conductor and a singer), Igor Chystokletov, 40, began studying music early and stayed with it, beginning with the Primary Music School in Bratsk of Russia, Secondary Music School in Vinnitza of Ukraine and on to Odessa State Conservatory of Music.
As a student, he won prizes in various national and international competitions, including the Soviet National Secondary Schools Professional Piano Competition in Chita of Russia and the Lom Music Festival in Bulgaria.
After graduating with the highest marks in each discipline, including concert performer, chamber ensemble artist, teacher and concertmaster, Chystokletov visited Vietnam and began to teach piano at the HCMC Conservatory of Music. Currently, besides his teaching, he has held solo performances and performed with various chamber ensembles and orchestras of Russia, Ukraine, Bulgaria, Italia, Singapore, Thailand and Vietnam.
Local artist Nguyen Thuy Yen has proven her outstanding talents since her first year at the conservatory. Graduating from the conservatory with top results in both her bachelor and master courses, Yen became one of the youngest piano teachers at the conservatory. She has held several solo performances and played with other artists in numerous performances organized by the HCMC Conservatory of Music.