Ho Chi Minh City Television annual singing contest entitled "TV Singing Star" becomes a strong brand by its 20th anniversary in this year.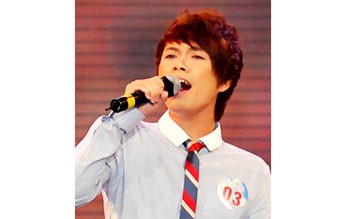 Contestant Do Xuan Son
The organization board has made diary's reportages of the program which have been broadcast on TV to review its development during 20 years.

This year's contest has renovated its content of examination. Contestants will perform songs on selected topics and genres of music, including patriotic songs and songs that praise Ha Noi and HCM City.

They also took part in social activities and visited historical and revolutionary sites to get more experience and good musical feelings in singing and performing.

Audiences across the country will vote for the winner.
Winners of the music contest have become popular and got a good position in the Vietnamese music market such as Thanh Thuy, Dam Vinh Hung, Doan Trang, Bouneur Trinh, Duc Tuan, Ha Tram...

Started on November 4, the final round of the contest 2010 will close on December 5.