The Ho Chi Minh City based cable television provider SCTV announced a collaboration venture with Hong Kong Television Broadcast Company TVB at a press conference on December 4.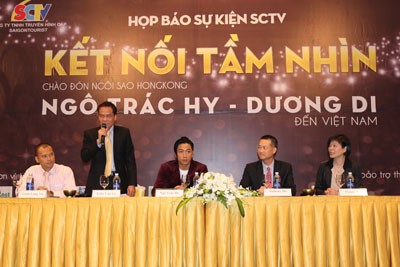 SCTV GM Tran Van Uy shares his company's plans with the press at a conference on December 3 (Photo: Truong Son)
The collaboration will involve SCTV broadcasting upto 90 dramas and jointly producing local films with TVB.

According to Tran Van Uy, General Manager of SCTV, his company expects to learn more production techniques and post-production effects from TVB.
With TVB being the leading company in producing historical features, Uy strongly believes the collaboration will help Vietnam produce more historical dramas with good content.

SCTV also emphasized that filming and producing will not be limited within Vietnam. They plan to find more overseas locations suitable to the film background.

There is also possibility of hiring foreign actors and actress if this should match the script.

To mark the joint collaboration venture, SCTV organized a gala dinner, press meeting, and fan meeting in Ho Chi Minh City with appearances by two visitors from TVB, Ron Ng and Tavia Yueng.

Actor Ron Ng is famous for Twin of Brothers, Chocolate Lovers, Life and Death and Triumph in the Skies while actress Tavia Yueng gained fame from Dicey Business, The Mystery of Love, The Other Truth, Moonlight Resonance and Beyond the Realm of Conscience.