The 133 contestants, who had won earlier competitions at the district, office and union level participated with the support of hundreds of fans.
"Over the year, the competition has received the enthusiastic support from the young and old, women and men, and from all religions and ethnic groups," said Mr. Phan Xuan Bien, chief of the Propaganda and Training Department of the city's Party Committee and head of the contest's organizing board.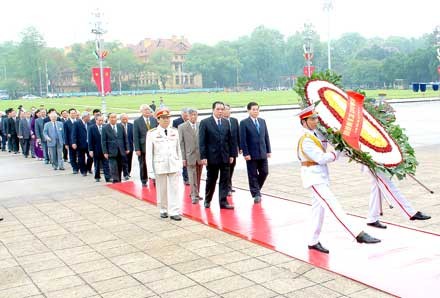 On May 19, Party and State leaders paid tribute to President Ho Chi Minh at his mausoleum to celebrate Uncle Ho's 118 Birthday
"Touching stories of Ho Chi Minh's moral example help us contemplate and drastically improve ourselves," he added. "They promote a virtuous character suitable for a party member. Hence, they help combat corruption, wastefulness and social evils. With this effect, this city-level contest is held to find the best story teller with a gentle and emotional voice in the image of President Ho."
After the opening ceremony, contestants were divided into four groups. The preliminary examination, to be completed by May 24, will choose 32 contestants for a semifinal round. Sixteen contestants participant in a final round scheduled by June 3-5. This is the 97th anniversary of the day Uncle Ho departing from Nha Rong Wharf to search for his revolutionary road.