The 14th song contest, "Little cicada's voice," for high school students opened at Dam Sen Park District 11, HCMC, on July 12.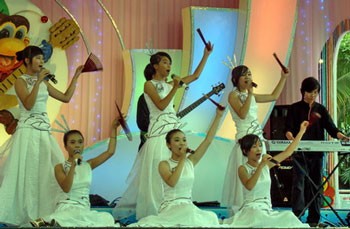 The "Vut bay" (Fly) band
The day's "Little cicada's voice" song contest involved three bands, including Vut Bay (Fly) from Tran Phu High School, Hoa Nang (Sunny flower) from Vo Truong Toan High School and Mac Dinh Chi High School's Ve xinh (Beautiful Cicada).
This year's subject, "Radiant Vietnam," praises the country, people's patriotism and revolutionary heroism, teachers, the city's civilized life and will involve 24 bands from 22 high schools in the city.
The bands will compete with each other every Saturday and Sunday mornings during summer vacation.
The annual song contest is organized by the city's Department of Education and Training in collaboration with and Dam Sen Park.