Almost 200 German and Vietnamese musicians will play together in a classical concert at the Hanoi Opera House on Jan. 23, kicking off the "German Year in Vietnam 2010" to mark the 35th anniversary of Vietnam-Germany diplomatic ties.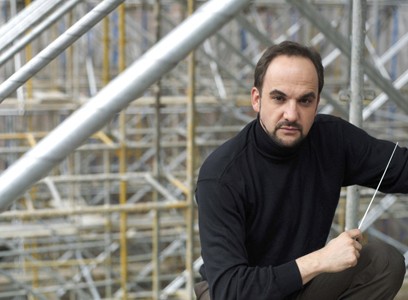 German conductor Jonas Alber
German conductor Jonas Alber, who has conducted many well-known orchestras in Germany and the world, along with musicians from the Berlin Symphony Chorus and the Vietnamese National Symphony Orchestra will take part in the musical event, said Marina May the manager of the German Year in Vietnam project to reporters in Hanoi on Jan. 18.
A similar concert will take place in Ho Chi Minh City on Jan. 24.
The German-Vietnamese cooperation programme in art highlights images of a cultural, creative and modern Germany in the areas of cinematography, music, photography, dance and fashion design.
There will be a special focus on environmental protection, urban climate change, planning, transport and architecture through a series of activities such as seminars, fairs, exhibitions and visiting artists during the years.
At a press conference, German Ambassador to Vietnam Rolf Schulze and Nguyen Sanh Chau, Head of the Vietnamese Foreign Ministry's Department of Cultural Diplomacy, said that the "German Year in Vietnam" and the "Vietnamese Year in Germany" have been sponsored by German President Horst Kohler and Vietnamese President Nguyen Minh Triet.
The organisation of the events reflects the extent of the two countries' relationship in the areas of economics, politics, culture and education as well as the close ties that have grown between the two countries over the past 35 years. The year will also see continued implementation of Vietnam's policy on cultural diplomacy, a major part of the Vietnamese government's comprehensive diplomatic policy, which includes politic, economic and cultural diplomacy.
"German Year in Vietnam" will help the Vietnamese people to better understand Germany and its people as well as help Vietnam to learn more about promoting the country abroad and organising external cultural activities, Chau added./.

Related article:
Vietnam, Germany celebrating 35th year of diplomatic relations