A trio of renowned Scandinavian musicians will perform a set of classical masterpieces next week in the southern hub.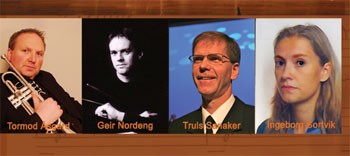 Four Norwegian musicians, L-R, Tormod Asgard, Geir Nordeng, Truls Sanaker, and Ingeborg Sortvik are set to perform at HCM City's Opera House next week. (Photo: Courtesy of Ho Chi Minh City Ballet Symphony Orchestra and Opera)
The concert, entitled "A Norwegian Foot Print," is set to debut in HCM City October 19, featuring performances of classical masterpieces by Mozart, Aaron Copland, Terry Riley, Gustav Holst and Carl Maria von Weber.
 
Three Norwegian musicians, world-renowned oboe player Ingeborg Sortvik, trumpeter Tormod Asgard, and percussionist Geir Nordeng, will perform the pieces led by conductor and fellow Norwegian, Truls Sanaker.
 
American composer Copland's Fanfare for the Common Man will kick off the show, followed by a performance of American Riley's In C.
 
Audiences will also be treated to two works by European artists, Groove 3a by Bjørn Bolstad Skjelbred and Serenade in C-minor by Mozart.
 
A unique series composed by Sverre Berg and arranged by Bjorn Mellemberg are planned along with a finale featuring the music of C.M.v.Weber and Gustav Holst.
 
The line-up is also scheduled to include unforgettable works like Concertino fur Oboe und Blaser and Suite no. 1 in E flat.
 
Tickets are on sale for VND150,000- 200,000 (US$9-11) at HCM City's Opera House Box Office in District 1.

Bookings can also be made by phone at: (+848) 3832 2009 or 6270 4450. 

The performance starts at 8pm.