The melodies of Korean romances and favorite classical works will be performed by various Korean artistes at a friendship and cultural exchange concert for the two countries' cities, 'Ho Chi Minh City and Busan' at Saigon Opera House, district 1, 8pm February 9.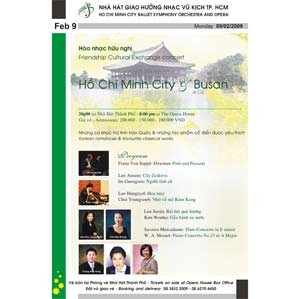 Poster for 'Ho Chi Minh City and Busan' (Photo: HBSO Courtesy)
The concert will be led by Korean conductor Cho Hong Rae and Vietnamese conductor Tran Vuong Thach. Other performers confirmed are Lee Hwa-Yong Seon, Cho Hae Ryong, Chang Wan-Sang, Shin Ji-Beum and Han Eun Kyuna.   
The confirmed program will include several favorite Korean classical works, such as 'Zelkova' by Lee Ansam, Ex-lover by Im Guengsoo, 'Rattan flower' by Lee Hungryol and 'Miss Kum Kang mountain' by Choi Youngsoeb. 
In addition, the two classical pieces, or 'immortal songs,' will be presented, 'Flute Concerto in E minor' by Italian composer Saverio Mercadante and 'Piano Concerto No.23 in A Major' by Mozart. 
The concert is organized by the HCMC Ballet Symphony Orchestra and Opera.  
Tickets are available at: VND200,000 ($12), VND150,000 ($9) and VND100,000 ($6). Tickets can be purchased at the booking office or via phone on: (84-8) 3832 2009 or (84-8) 6270 4450.